X-Combat Back in Action (RCW 2010)
For those who never heard of Combat Robot or Robot Wars, Combat Robot is basically a competition where Robot are made to fight each other, and the one that successfully destroy the opponent will be considered as winner. The video above is a good example of the competition. For more detail about Combat Robot please proceed to: http://en.wikipedia.org/wiki/Combat_robot
X-Combat is a combat robot team form by 2 graduated student from UTM (Malaysia). In 2009, we participate in Robogamez (Open Category) organized by UNITEN (Malaysia). In the game, X-Combat entered Semi Final, but being kicked out at Semi Final. Below are some image captured at the process of building the X-Combat.
Building X-Combat in 2009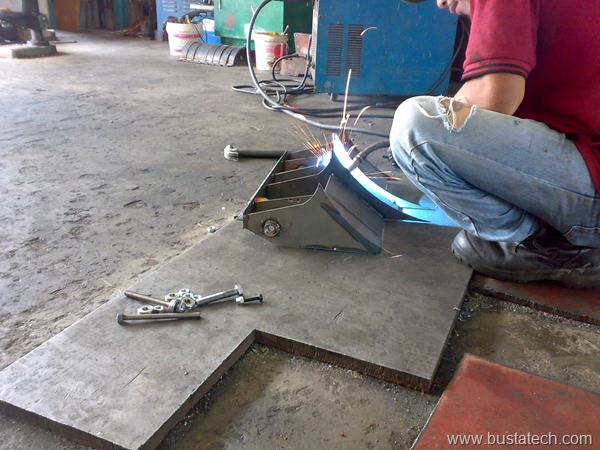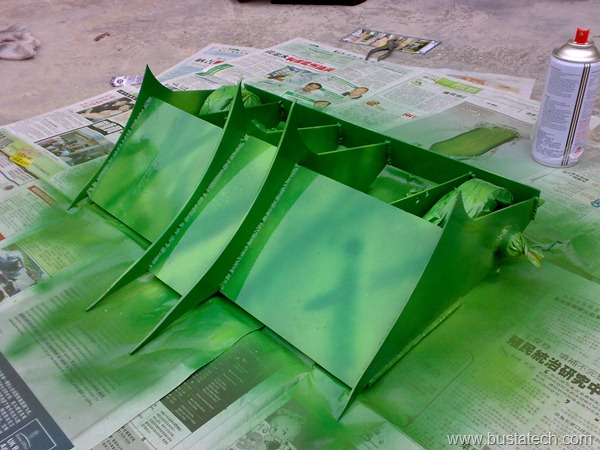 X-Combat in action during the Robogamez 2009 at UNITEN
X-Combat Back in Action (RCW 2010)
In 2010, we've decided to bring X-Combat back in action in RCW 2010 Combat Robot Challenge organize by MMU (Malaysia). Due to some differences in the rules, we are making some changes in the robot.
The first changes we've made is we adjust the weight. In the Robogamez 2009, the total allowed weight for the Robot + Controller is 13.6kg, and the total weight for X-Combat at that time is around 13kg. But in RCW 2010, the allowed weight is 15kg, which means we will still have another 2kg to add weapon, or extra battery to the robot. So, we add another Lithium Polymer battery to the robot, (total number of 5 Lithium Polymer powering the Robot) to ensure that it have enough juice to fight through the 3 minutes game, and also two pieces of 0.5kg dumbbell weight plate to increase the weight. There are no extra space for the dumbbell inside the body of the robot, so, we add the dumbbell to the top cover of the robot. The extra dummy weight we added is to ensure that X-Combat is not too light to be easily push or flip over by the opponent.
We also replace the motor for the wheel as this is the most important part of X-Combat. The motor that is being use in X-Combat is the Starter Motor for Honda EX-5 Motorbike. It is definitely a very powerful motor, but one problem is it is not design to operate for long duration (you won't take up to few minutes to start your motorbike). So, in the 2009 game, we do face problem when the motor burn out after a long game and effect the performance of the robot.
The last changes is we sprayed "www.bustatech.com" to the X-Combat (in RED) as to promote this website.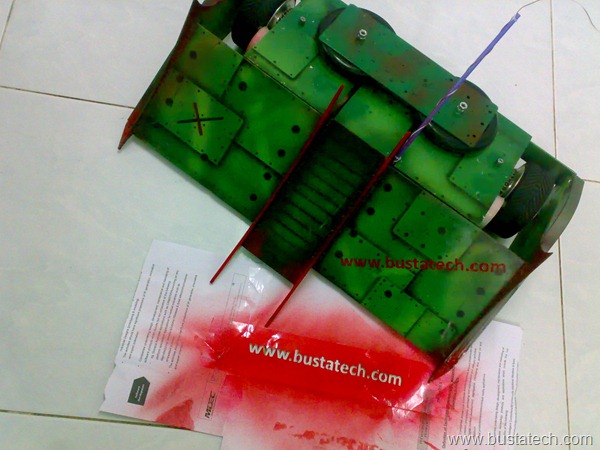 The RCW 2010 will be held in MMU Melaka at 13 – 15 August 2010, which is this coming Friday. We are very exited for the game and hope that we can get a better result this year. We will update the result, photos and videos after the game.